As you may already know, Jeep Cherokees feature UniFrame construction. This type of frame presents a few special challenges for bumper mounting.
Front Bumpers
Our front bumpers mount to the standard 3 hole mounting pattern on the front of the UniFrame, this is the stock bumper mounting location and provides plenty of support for on-road driving and LIGHT vehicle recovery while off-road. The weakness of this mounting system is not the bumper brackets or the bolts themselves, it's the ability of the bumper to tear the holes in the front of UniFrame out with a front or side pulls. For those whom are looking for more recovery options off-road we offer UniFrame tie-in brackets.(Because hey, we all get into situations we never thought we would) These brackets sandwich between the bumper mounting brackets and UniFrame (using the standard 3 hold bolt pattern on the front of your XJ) and continue 14.5" down the UniFrame. Along the way (on the driver side) they brace three of the steering box bolts, and run through the large sleeved hole about 12" from the front of the frame. The passenger side bolts directly to the sleeve in the frame.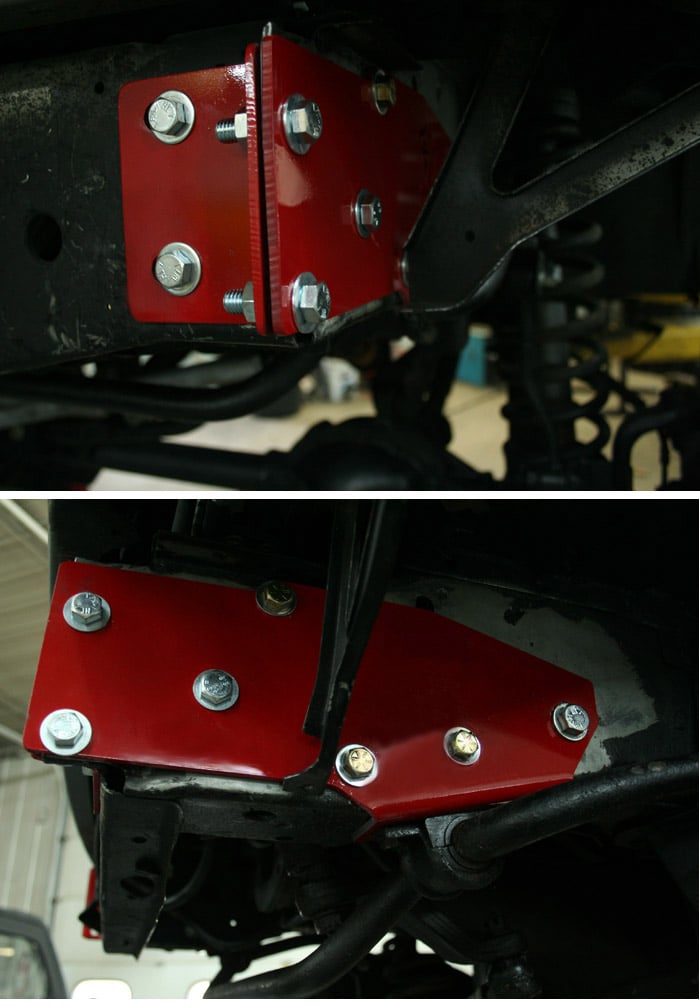 Tie-in bracket shown without bumper installed for illustration purposes.
Not only do these brackets distribute the forces you put on our bumper on a larger area, they brace the steering box by stiffening the UniFrame in that location, while also stiffening the whole front end of your Jeep. All of our Cherokee winch bumpers come standard with the tie-in brackets, but they are options on all other Cherokee front bumpers. Why do we recommend these brackets, but not include them standard on all of our bumpers? It comes down to savings passed on to you. If you KNOW FOR SURE that you will never get your Jeep in an offroad situation where a hard recovery is necessary (we are not going to dog on you guys that just want good looking Jeeps) then why should you have to pay the extra cost that these are going to inflate our bumpers price? Oh man, I forgot to order brackets with my bumper, can I add them later? Yes. The new Crusader Series front bumpers come with spacers if you are not installing tie in brackets. Simply replace those mounting spacer plates with the Unibody Reinforcement plates and you are good to go! So the official word around here is, get the brackets if you think there is even a chance you will need them.
Rear Bumpers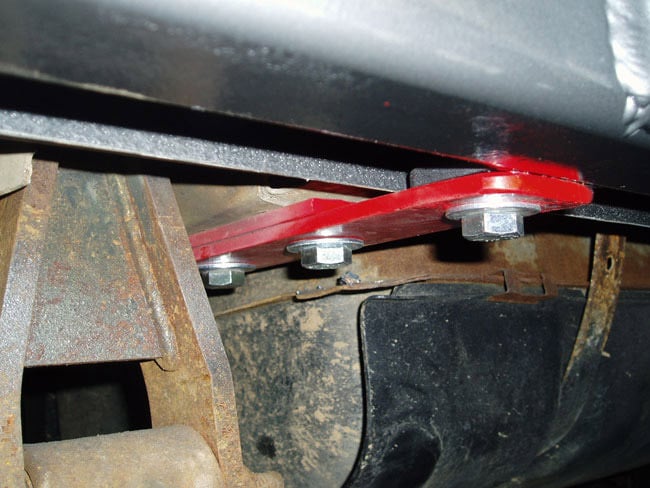 Our rear bumpers mount to the 8 holes on the rear crossmember of the Cherokee. Our completed rear bumpers for Cherokees come with uni-body tie-in brackets standard.
On our DIY rear bumpers these are an option!
They mount to the underside of the UniFrame (where the factory receiver mounts) then bolt to the bumper for easy installation.